We can define the low code as the practice where we start with a graphical interface, something like a skeleton of the most general and common elements between platforms when starting a new project. In this way, with all these elements already coded, we only need to make the project specifications (the colors of the platform, the functionalities, or specific pages) so that, in the end, we would end up making only approximately 20% of the code.
These products differ from no-code development platforms because they allow for a greater level of functionality with custom code rather than a drag-and-drop interface. Low-code platforms may allow users to develop applications without ever touching source code. Still, the ability to modify said code if the need arises sets these products apart from their no-code siblings. They also provide less functionality than a whole integrated development environment because they do not provide tools to create complete applications from scratch.
One of the best advantages of low code is that it does not require much coding knowledge (in the end, we always need to do that 20% of the code, so we need to at least have an idea of ​​how to program). Thus, the amateur or senior programmer can use the low code, which would work just as well.
Project low code development growth
According to a recent Forrester report, the low-code market is set to reach an annual growth rate of 40%, with spending forecasted to hit $21.2 billion by 2022. Thus, with the rise of low-code development, there will also be increasing demand for customizable integration, implementation, and consulting services.
Interestingly, Forrester notes that no code/low code has the potential to make software building as much as 10 times faster than traditional methods. Furthermore, they note that these platforms help advance digital business in three major ways: a) greatly decrease time needed to meet business requirements b)harness shadow IT, and c) play a key role in automating operational processes."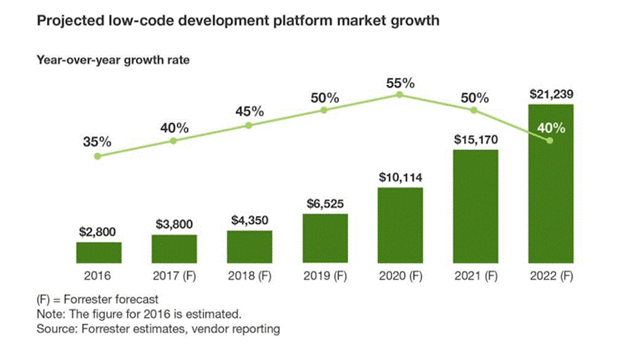 On the other hand, Gartner forecasts that no-code and low-code application platforms (NCAP/LCAP) will account for 80% of all application development by 2024. Moreover, it implies that most apps created in 2024 will be developed using tools that provide business-friendly ways to program.
So why should low code be used?
We must go through its most essential characteristics so that we can have a clear idea of ​​what we will have in case we choose this type of development for our project:
Speed: As might be expected, given that the most cumbersome and lengthy parts of the project are already done (or it requires minimal changes), the platforms can be ready in much less time
Decrease in errors: The low code in its base can be trusted to be correct and without errors. That is, you start with a large amount of the project of which you should not worry about mistakes, which ensures that the final project has a higher quality
Lower Costs: Because all times are much lower (development, implementation, testing), it is understood that costs also decrease considerably
Ease to use: Because low code platforms are characterized by being relatively easy to handle, you can expect to quickly learn how to use it and get to exploit its full potential.
Reuse: There are cases in which you must do a project with templates, layouts, plugins, widgets, or modules. So, you can reuse these tools any number of times, making adding features much more effortless.
Flexibility: Finally, low code development is not limited to a single platform type. It can be used for desktop and mobile platforms.
Do you have an idea and want to make a prototype to see if it is functional or sustainable over time? Then, 23blocks is the best solution that you will find to carry out this development with less effort and investment.
Each of our blocks is a combination of Software, Infrastructure, and Services, which are available as API Microservices. According to industry standards, these are hosted in a highly available cloud, ready for production and use.
Making the decision to start a software project can be complicated and intimidating. So, contact us at info@23blocks.com to receive free assistance from our software experts and get started on your idea.
There is a better way to build apps and platforms —the #23blocksway.